Connecting people to nature is an important element of successful Conservation Strategy implementation. Acquiring the knowledge, skills, and motives to conserve Oregon's native fish and wildlife empowers people to work together to take strategic actions for the benefit of current and future generations. Fostering broad participation in conservation will be critical to maintain Oregon's fish, wildlife, and habitats.
Ways to engage Oregonians in conservation include:
Strategy Outreach – tell people about the Strategy's goals, voluntary approach, and opportunities.
Conservation Education – provide opportunities for people to learn about their natural environment.
Fish and Wildlife-based Tourism – maintain existing and expand sustainable fish and wildlife-based recreation to increase support for fish and wildlife conservation, and to support local economies. Support hunting, fishing, and wildlife viewing.
Human Dimensions Research – learn more about Oregonians' attitudes toward conservation, how to foster more public involvement in conservation, and how to best support and incentivize landowners in voluntary conservation.
Oregon Conservation Strategy Outreach and Education
According to the North American Association of Environmental Education, conservation education should foster clear awareness of conservation issues and provide opportunities to acquire knowledge and skill. The results can deepen commitment and create new patterns of behavior. Many current education programs focus on building awareness, but knowledge and awareness of issues are just the first two steps. Conservation education programs need to serve all age levels and include tangible action items to model behavior. Ideally, conservation education will provide Oregonians with an understanding of the various issues involved with species conservation and natural resource management so they can understand all sides of complex issues and support sound decisions.
Education and outreach will be most effective when linked strategically to other actions, such as land management and habitat conservation, water management, or incentives for private landowners. Successful implementation of this Strategy depends on expanded involvement from a wide variety of people, agencies, and groups across the state. Effective outreach will be needed to share the goals, voluntary approaches, recommended actions, and benefits of habitat conservation to diverse Oregonians and partners. Equally important tasks are listening to input from diverse sources and providing opportunities for meaningful involvement and decision-making. Some important audiences are:
General Public Outreach and Education
Help individuals understand statewide habitat conservation goals in both urban and rural areas, with a focus on locally occurring ecoregions, habitats, and species. Build connections between the diverse communities of Oregon to help support a statewide commitment to conservation of Oregon's fish, wildlife, and habitats.
Private Landowners
Both urban and rural landowners should get recognition for the contributions they are already making to species conservation. Farms, ranches, and forests provide a variety of fish and wildlife habitats, and many rural landowners are actively improving habitat through improved management practices or specific projects. Provide information about these contributions and the connections that all Oregonians have to agricultural and forest landowners who grow the food they eat and the other products they use. Introduce urban Oregonians to diverse products from rural landowners who use certification or marketing programs that support sustainable or habitat-friendly activities. Similarly, recognize positive efforts to address conservation issues and provide habitat within urban areas, such as sustainable building, invasive species control, "Naturescaping" in backyards, and maintaining natural park networks that support fish and wildlife habitat and improve the quality of life for people.
Oregon Conservation Strategy Key Conservation Issue: Challenges and Opportunities for Private Landowners to Initiate Conservation Actions
Young Oregonians
The future lies with Oregon's younger citizens, in both K-12 and higher education (colleges and universities). Young people, both in rural and urban areas, need to see good examples of real people integrating ecological and economic values on farms and in forests, and diverse and innovative partnerships for habitat conservation. The more exposure young Oregonians have to real people doing habitat conservation, the more likely they are to support these activities in adulthood. Programs for young people need to include opportunities to participate in habitat conservation projects, whenever possible. Opportunities include working with youth groups, local governments, schools, and service learning programs. These expose students to different learning opportunities, help them develop a sense of commitment to their community and local habitats, and may introduce them to possible careers in the field.
There are opportunities to work with educators to provide additional opportunities for teacher training on conservation education curriculum and instructional strategies at no cost to teachers or schools. Classroom-based conservation education programs can be integrated with state academic standards and linked with standards for reading, math, and other subjects beyond science.
Research conducted by undergraduate and graduate students can be an important way to address information and monitoring needs for the Conservation Strategy. Colleges and universities are important partners for providing educational, technical, monitoring, and research assistance to landowners, Oregonians, agencies, and policy-makers.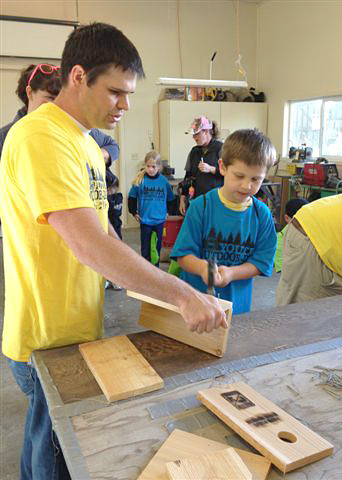 Federal and State Agencies and Other Conservation Partners
Provide information about the Conservation Strategy and opportunities for coordination. Help diverse agencies and staff understand statewide and ecoregional habitat conservation goals and incorporate them into programs, policies, and priorities whenever possible. In addition to agencies, there are potential roles for landowners, land managers, nonprofit organizations, universities and schools, business owners, local governments, elected officials, planners, consultants, and civic groups. Outreach efforts need to target all potential conservation partners.
The Conservation Strategy will build on existing efforts to conduct outreach and conservation education, expanding reach through partnerships. The following provides some examples of ongoing efforts by many agencies, schools, and organizations in Oregon:
Interpretation presentations and educational programs, such as campground talks, nature walks, skills workshops, hunter and angler education programs, games, and other children's programs and exhibits
Informational signage, brochures, videos, and other materials at agency offices, trails, campsites, wildlife refuges, and other outdoor recreation sites
School-sponsored learning, including outdoor camps, internships, restoration projects at schools, and classwork such as Bird by Bird
Special events, such as festivals and camps (e.g., Oregon Zoo, Oregon Museum of Science and Industry)
Fish and wildlife viewing programs, such as whale watching, bird watching, and elk viewing
Information on reducing human/wildlife conflicts in urban areas, such as Oregon Department of Fish and Wildlife's (ODFW) Living with Wildlife, and the Audubon Society of Portland
Media relationships, such as Oregon Public Broadcasting's Oregon Field Guide
Booths at county fairs and other community events
Newsletters, such as the Oregon Conservation Strategy e-newsletter
Goal 1: Improve Coordination, Strategic Implementation, and Evaluation of Conservation Education in Oregon
Action 1.1. Build on existing efforts
Inventory conservation/environmental education activities currently underway to determine which could help to promote the Conservation Strategy.
Work with local, state, and federal parks, wildlife areas, campsites, and other recreational programs to enhance interpretation programs.
Enhance effective partnerships with organizations whose primary mission is conservation education (e.g., non-governmental organizations, universities, agencies). Seek new conservation education partners in Oregon.
Fold Conservation Strategy priorities into the education and outreach activities of federal, state, and local natural resource agencies, non-governmental organizations, and other education providers.
Support environmental education programs for educators and students K-12.
Action 1.2. Marketing and promotion
Develop education materials about the Conservation Strategy. Produce outreach materials addressing Strategy Species and Habitats, Conservation Opportunity Areas, and conservation actions and issues. Inform people about opportunities to weave conservation goals into ongoing planning, greenspace acquisition and management, neighborhood projects, educational programs, restoration programs, and so on.
Work with media partners to promote the Conservation Strategy and its implementation priorities and create messages which report successes achieved by the Conservation Strategy.
Produce "virtual tours" of particular areas of the state to promote Strategy Habitats and Species and link to partner websites.
Action 1.3. Incorporate outreach and education into other voluntary actions
Produce informational brochures for landowners on Strategy Species and Habitats (also see Voluntary Conservation Programs).
Develop educational tools that complement on-the-ground conservation actions and management for Strategy Species and Habitats.
Work with the Oregon Invasive Species Council to develop a statewide invasive species awareness campaign, which will assess Conservation Strategy needs for education and marketing. Develop other tools for public participation for preventing introductions of new invasive species to Oregon.
Fish and Wildlife-Based Tourism
Overview
Because of the diversity and beauty of its landscape and richness in flora and fauna, Oregon is an outstanding state for outdoor experiences. Fish and wildlife-based tourism can promote conservation through public outreach and support, diversify local economies, and provide rewarding experiences for a variety of people. Oregon's approach is to support efforts to create and promote sustainable fish and wildlife-based tourism opportunities. In this discussion, the term "wildlife tourism" refers to recreational activities based on both fish and wildlife use and appreciation.
Objectives
Provide strategic direction and leadership on sustainable wildlife watching opportunities, hunting and fishing opportunities, and education in Oregon.
Promote sustainable tourism and tourism-generated economic development appropriate to Oregon's regional communities and consistent with the values and principles underlying the Conservation Strategy.
Investigate potential sources of future income generation resulting from sustainable wildlife tourism development and growth that will benefit both local communities and the Conservation Strategy's wider conservation goals.
Integrate sustainable tourism opportunities, where appropriate, into regional and statewide programs developed as a result of the Conservation Strategy.
Facilitate greater collaboration and cooperation over wildlife tourism opportunities in Oregon with interested regional and state tourism associations, Oregon's destination management organizations, tourism industry operators, and key stakeholders identified through the Conservation Strategy development process.
Continue to promote hunting- and fishing-based tourism. Oregon is known for its wide open spaces, rugged landscapes, and great hunting and fishing opportunities. Over 16 million acres of public land are open to recreational users, including hunting, fishing, hiking, biking, and camping. Hunting and fishing are an outdoor heritage for Oregonians, and sportsmen and women continue to support conservation efforts and recovery of both "game" and "nongame" fish and wildlife.
Challenges and Opportunities
Enhance awareness of the workings and interests of the tourism industry and its relevant opportunity areas among the stakeholders, regional organizations, and fish and wildlife programs associated with the Strategy.
Enhance awareness of sustainable wildlife-based tourism opportunities and relevant conservation needs, interests, and priorities within Oregon's tourism industry, particularly its nature-based tourism sector.
Align conservation programs and sustainable tourism development needs and opportunities of Oregon and its regions.
Tourism Trends
According to the Travel Industry Association of America, significant travel trends affecting Oregon's tourism industry include:
Oregon's diverse regions, from the coast and mountains to valleys and deserts, offer a rich variety of outdoor activities for everyone, from the extreme sport participants to fishing enthusiasts to the family vacationer.
Recreation and adventure interests and options range from the 'soft' (at the more relaxed, observational, and passive end) to the 'hard' (more active and physical with an element of potential 'danger').
Outdoor recreation and/or visiting national or state parks is one of the top activities for U.S. travelers taking leisure trips within the U.S.
One in five (21 percent) leisure person-trips includes some form of outdoor recreation and/or a visit to a national or state park.
Half of all U.S. adults, or 98 million people, have taken an adventure trip in the past five years. This includes 31 million adults who engaged in hard adventure activities like whitewater rafting, scuba diving, and mountain biking.
Camping is the number one outdoor vacation activity in America. One-third of U.S. adults say they have gone on a camping vacation in the past five years. The average age of travelers who go camping is 37, and their median household income is $43,000.
One-fifth of U.S. adults attended a festival while on a trip away from home in the past year. One-third of festival travelers attended an arts or music festival in the past year; twenty-two percent of festival travelers attended an ethnic, folk, or heritage festival. Festival attendance often involves camping.
Travel Oregon aims to enhance Oregonians' quality of life by strengthening economic impacts of the state's $10.3 billion tourism industry and promotes fish and wildlife-based tourism opportunities.
Value of Fish and Wildlife-based Tourism and Recreation
National recreation surveys have provided useful information on popular activities in the U.S. These surveys provide valuable indicators of Americans' outdoor recreation activities and their interest in enjoying these activities when visiting different places or destinations.
Wildlife viewing can complement camping, hunting, and fishing activities, and can be enjoyed year-round by virtually all ages. For example, in 2011:
Nearly a third of the U.S. population participated in wildlife viewing activities.
1.2 million residents and nonresidents 16 years old or older participated in wildlife watching in Oregon.
More than 800,000 Oregonians participated in bird watching.
In 2013, there were approximately 259,000 licensed hunters and 617,000 licensed anglers in Oregon. Approximately 243,000 hunters and 493,000 anglers were Oregon residents. Licensed resident hunters make up 8.3 percent of the state population aged 12-69. Licensed resident anglers make up 17.4 percent of the state population aged 14-69.
Results from the 2011 National Survey of Fishing, Hunting, and Wildlife-associated Recreation by the U.S. Fish and Wildlife Service (USFWS) showed that Oregon derived $2.7 billion in revenue from all wildlife-related recreational activities in 2011. Of that amount, Oregonians spent $1.7 billion.
2011 Expenditure Data for Hunters, Anglers, and Wildlife Viewers Active in Oregon

*
Hunters
Anglers
Viewers
  Food and Lodging
$35.8 Million
$148.7 Million
$275 Million
  Transportation
$42.3 Million
$95.8 Million
$196.8 Million
  Other Trip Costs

*

$16.9 Million
$29.7 Million
$9.9 Million
  Equipment
$61.5 Million
$235.3 Million
$253.2 Million
Other Expenditures

**

$16.9 Million
$29.7 Million
$196 Million
Approximate Total
$173.6 Million
$538.4 Million
$930.9 Million
A 2009
study
commissioned by the ODFW and Travel Oregon provides a comprehensive effort to describe and quantify the economic impacts of hunting, fishing, wildlife viewing, and shellfish harvest participation and related expenditures made throughout Oregon.
Goal 2: Promote Tourism Opportunities related to the Oregon Conservation Strategy
Tourism opportunities promoted by the Conservation Strategy will be implemented in partnership with Travel Oregon. ODFW and partners will work with landowners and land managers, communities, and other partners in developing projects and be sensitive to any concerns local communities may have. All proposed actions must review and consider any potential impacts to both species and habitats.
Action 2.1. Explore joint tourism marketing and market research opportunities
Explore joint opportunities for cooperative marketing of key nature-based tourism themes (including wildlife watching). In addition, determine priority areas of joint need for undertaking cooperatively-funded market research that will better inform the marketing and product development strategies adopted.
Action 2.2. Determine regional priorities for tourism in relation to wildlife watching opportunities
In relation to any regional program development criteria involving wildlife tourism initiatives, investigate the merits of applying two or more levels of developmental and marketing status for Oregon's ecoregions. Each level would be acknowledged to have different strategic and program support needs, which also might logically reflect different levels of investment. For example:
Ready proximity to visitor markets (and major ports/cities/highways of entry)
Product/experience readiness
Product quality
Extent of product's visitor and market appeal
Extent of supporting amenities and services (including nearby accommodation options)
Extent of other available experiences of complementary importance to visitors
Action 2.3. Build on existing wildlife-watching programs
Support and expand the many fish and wildlife-watching programs that currently exist. Work with Travel Oregon, Oregon Parks and Recreation Department, Audubon Society, federal agencies, and other partners to promote development and expansion of birding trails in Oregon. Work with the Oregon Parks and Recreation Department to support existing whale watching programs. Work with local groups to promote existing wildlife festivals.
Action 2.4. Determine a cost-effective education and development approach to wildlife tourism in Oregon
Great benefits can result from adopting a tourism education and tourism development approach that draws on the success of others and the value of testing new 'product' ideas through pilot projects selected for their high likelihood of success and their likely educational value. For example, in relation to privately owned and operated wildlife- and nature-based tourism services/attractions, the successful case studies represented by Wanderlust Tours in Bend, and Marine Discoveries in Newport, could be documented and distributed (possibly in association with Travel Oregon). Research the basis of success for such leading nature-based products and other international examples of best practice in this interest area.
Action 2.5 Develop further highly-innovative wildlife experiences (including interpretive facilities) that capture the imaginations of visitors as well as national and international recognition and publicity
Today, visitors can choose from a world of competing leisure and entertainment options, with the form of these often crossing over from one traditional context to another (e.g., cruising, entertainment, food, on board rock climbing walls, etc.). Visitors are far more discerning and aware of an explosive growth in these available options. Therefore, in the context of beautiful natural environments and wildlife viewing opportunities, it is no longer simply the beauty and the wildlife alone that can constitute the extent of the experience, but the way in which the experience itself is provided and accessed. An example is the tree top canopy walks that have been designed around the world, some seemingly offering an intrinsic (but safe) sense of danger as part of their appeal. Another good example is the Bureau of Land Management's (BLM) Cascades Streamwatch (Wildwood Recreation Area) facility near Mount Hood, where the viewer can look into the side of the stream at young salmon in which they are living. Exploring exciting new 'world standard' opportunities here for a range of suitable wildlife experiences jointly with other partners or private investors is a serious investment option for regions and locations that possess the right mix of wider tourism destination, product, and marketing qualities. The development of trails, such as the Birding Trails of Oregon, warrants an exploration of the opportunities for innovation and thorough implementation of the trails' on-the-ground features (e.g., signage, interpretation, guide books, trail distribution, and cross promotion of companion needs like accommodation and food, equipment supplies, etc.).
Potential focus areas for innovation could also include innovative visitor interpretation developments, exciting new wildlife observation facilities and tours, or even new joint ventures with private industry over nature-based accommodation options adjacent to high-interest natural environments.
Action 2.6. Adopting a proactive leadership role on sustainable wildlife tourism practices and opportunities in Oregon and exploring further related partnership and alliance opportunities
Investigate joint project possibilities of mutual interest between partners. Identify overlapping areas of visitor/community-related policy, planning, and development activity. Exchange research and policy insights as well as knowledge of new development opportunities. Agencies' day-to-day policy decisions (e.g., timing of hunting and fishing seasons) can prove of great importance and benefit to tourism in Oregon. Regular liaison with Travel Oregon and Oregon's tourism industry (including regional Destination Management Organizations) could be helpful in addressing potentially unforeseen impacts to tourism.
Over time, partnership development with the tourism industry could generate sufficient revenues to some wildlife/nature-based industry tour operators (e.g., whale/marine watching) to permit them to contribute to conservation and scientific activities surrounding those experiences.
Further, tourism and economic development options might include an exploration of how to advance partnerships with local and regional festivals with a nature- or wildlife-based theme – to help these become stronger in appeal and more successful for their communities and for the programs that support them.
Building closer working relationships with the convention/conference and meetings tourism sector to expand the available conference leisure options for business and other visitors is a further possibility. Partnering with tourism operators to build greater visitor and community awareness of conservation issues, practices, and participation opportunities is another.
Partnering efforts with regions and communities can help allay their possible fears of the negative effects of tourism – fear of invasion or loss of quality of life. The Travel Industry Association of America (TIA) and National Geographic Traveler have identified a highly significant new values-based tourism market, "Geotourism", that treads lightly and values community concerns here. The key need is to manage the types of tourism sought – and focus on target markets that will benefit people and places, not harm them.
Action 2.7. Planning for sustainable wildlife-related tourism and growth
Affirm the known tourism industry and community desires in Oregon for a sustainable approach to tourism development in the state's regions and a planned approach to tourism growth. In pursuing such a goal, consider the merits of adapting or utilizing an existing model of best practice (such as that developed for conservation-based industry accreditation by Ecotourism Australia, which has also been providing similar policy development services to the World Tourism Organization).
In accordance with industry feedback, consider developing an 'Oregon model' for wildlife tourism planning, along with a widely available charter identifying its key development values and principles. Sustainable tourism policy positions have been actively adopted by many leading destinations and states around the western world and beyond (e.g., Costa Rica). Their governments and industry leaders share the view, apparently strongly shared by the Oregon tourism industry, that it is essential to protect significant community and tourism assets if the industry is to continue to prosper well into the future. Such policies also serve to maintain visitor satisfaction and community goodwill. Oregon's tourism industry leaders share the view that staying true to Oregon's natural and civic heritage and character will provide the best tourism opportunities.
Such a best practice model would be instrumental in helping retain Oregon's sense of distinctiveness (Keeping Oregon 'Oregon') and the essential qualities and way of life that make the state and its regions so appealing to local communities and visitors alike. It would draw on and reflect these authentic qualities and Oregonians' most prized community values – including their pride in the state's comparatively unspoiled natural beauty and protected wildlife.
Fish and Wildlife-Based Tourism Additional Resources
Human Dimensions of Fish and Wildlife Conservation
Social science research can support conservation by increasing understanding of what connects people to nature, how people view conservation, what conservation actions appeal to them, and how to build public interest in stewardship. Cultural background influences perspectives on conservation, as well as how to best communicate with various publics. As Oregon's population continues to become more diverse, conservation outreach will increasingly need to consider the broader spectrum of cultural values.
Environmental education and fish and wildlife-based tourism programs should be monitored via human dimensions research to determine if they appeal to people, if they are meeting their goals, and how they can be improved. Lastly, it is important to better understand what landowners need and want to support voluntary conservation on their land. Conservation partners need to work with landowners in determining the most appropriate conservation design or methods to make conservation work better on the ground.
Human Dimensions in Wildlife is an emerging field of study that blends the social sciences and natural resource management to answer these kinds of questions. Relevant information can be collected through a variety of methods, including surveys, focus groups, structured interviews, workshops, etc. Target audiences include consumptive users (e.g., hunters), non-consumptive users (e.g., bird watchers), urban/rural residents, private landowners, and business owners, among others. Partnerships with universities that do public policy and other social research can help to address some of these information needs.