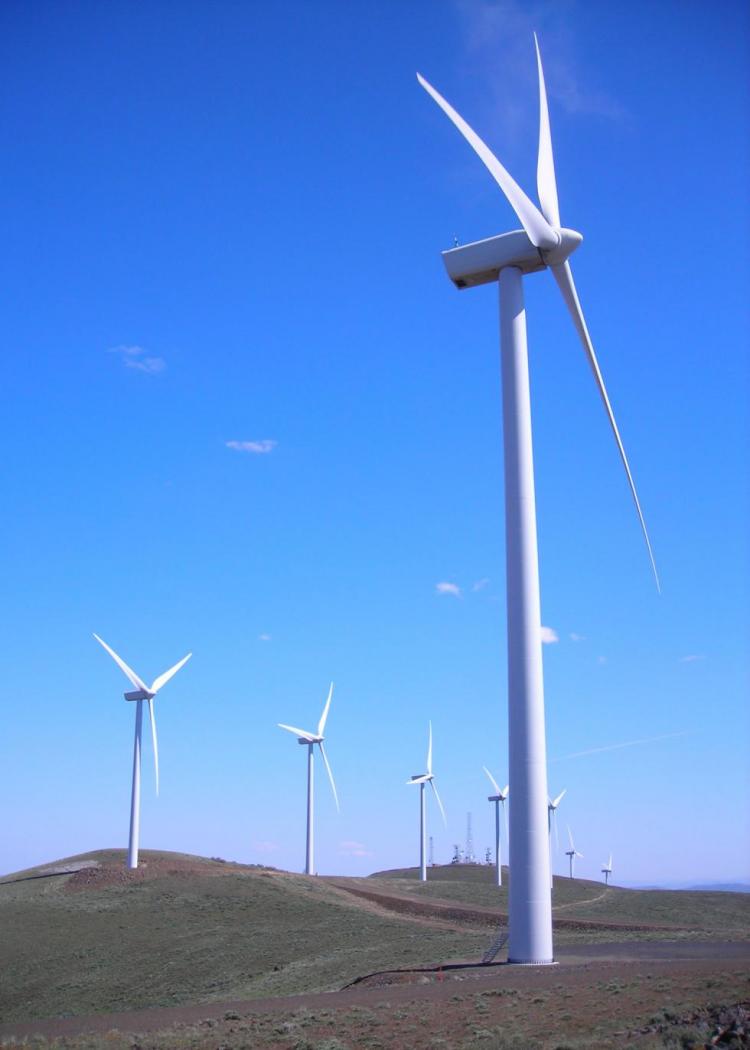 Background
People's presence on the land has always altered the shape, appearance, and function of ecosystems. Native Americans, European settlers, long-time Oregonians, and today's newcomers have contributed to land use patterns that affect fish and wildlife populations. Oregon's human population is increasing, which means greater demand for urban, residential, and industrial areas, including energy generation and transmission infrastructure. An estimated 3,930,000 people lived in Oregon in 2013, and Oregon's mild climate, spectacular vistas, and easy access to outdoor recreation will continue to attract new Oregonians.
The Willamette Valley is home to almost three-fourths of Oregon's population, which is anticipated to nearly double in the next 50 years. Much of this growth will be in the Portland metropolitan area. Metro was created in 1979 as the regional government for the Portland area, which includes Clackamas, Washington, and Multnomah Counties. It is the only directly elected regional government and metropolitan planning organization in the United States. Other areas of the state, such as Deschutes, Jackson, Hood River, Polk, and Yamhill Counties, are expected to see relatively high growth rates over the next 10 years (Oregon Office of Economic Analysis).
As a result, conversion of natural areas, farmland, and forestland to other uses is expected to increase. Land use change, whether from native vegetation to farmlands or from farmlands to residential neighborhoods, can result in the disruption of natural disturbance regimes (e.g., fire and flooding) and further result in habitat loss and fragmentation. Urbanization poses particular problems for natural resources. Conversion to urban and rural uses increases the amount of impervious surfaces, which alter surface and water flow, degrade water quality, and reduce vegetation cover and diversity. The changes made to the landscape through development tend to be permanent, and restoration to a natural state is difficult, if not impossible. However, contained, well-designed urban growth can minimize impacts to surrounding landscapes and conserve fish, wildlife, and habitat values, as well as working farms and forests. These landscapes represent a significant portion of Oregon's land and income base. They provide key ecosystem services, as well as representing important tourist destinations showcasing Oregon's natural beauty. In addition, natural resources within urban areas provide essential functions and values to local communities and contribute to watershed health for fish and wildlife species (Conservation in Urban Areas).
The state must also balance its interest in clean energy development and emissions reduction with local natural resource preservation as described in the state's 10-Year Energy Action Plan. The Columbia Plateau ecoregion has seen considerable wind energy development over the past decade given its high wind resource potential. Other portions of southern and eastern Oregon show potential for future solar and geothermal energy generation. Natural gas development is proceeding with many new plants throughout the state. The existing electric transmission system will need to be upgraded to maintain reliable service, meet new demand, and connect renewable energy development to electric loads. Infrastructure associated with energy, including access roads and pipelines, can also impact the landscape. Oregon has a renewable energy requirement of 25 percent by 2025 for the state's largest utilities. In addition, the regional demand for a cleaner energy system will continue to drive renewable energy development.
Land Use Planning
Oregon has many opportunities today to conserve, restore, and improve fish and wildlife habitat. Oregon's statewide land use planning program provides a framework for the protection of farm, forest, and rangeland by limiting development on resource lands. Prior to the 1960s, population growth was not broadly perceived as a concern in Oregon. However, between 1940 and 1970, Oregon's population grew by 109 percent. Subdivisions sprouted next to farms in the Willamette Valley and Oregonians saw their pastoral landscape threatened by sprawl. Governor Tom McCall and farmer-turned-senator Hector MacPherson collaborated on legislation (Senate Bill 100) that created Oregon's land use planning program in 1973.
The Department of Land Conservation and Development (DLCD) is the state agency responsible for administering the statewide land use program, as well as supporting the local jurisdictions that implement the program on the ground. DLCD is guided by the Land Conservation and Development Commission (LCDC). The statewide land use planning program has been charged by the legislature to manage urban growth, and protect farm and forestlands and natural resource lands, including coastal and ocean resources. Oregon's land use laws have helped maintain the state's forest and farm working landscapes, which provide habitat for many fish and wildlife species. In addition, the planning process can provide more certainty to landowners, developers, and habitat resources. A 2008 report by the Institute for Natural Resources at OSU concluded that the land use planning system has been effective in achieving many of its goals since the 1970s. The protection of natural resources is a key component of Oregon's land use planning program.
Comprehensive land use plans were put in place across Oregon starting in 1982. Each city and county must adopt and maintain a comprehensive plan and an implementing zoning code consistent with the 19 statewide planning goals. The goals address:
process goals – citizen involvement and land use planning
development goals – destination resort siting, housing, and economic development
farm and forest protection goals
coastal goals that apply to Oregon's coast, estuaries, beaches, and territorial sea
When Oregon's statewide land use planning program was created, Goal 5 required local governments to adopt programs to protect natural resources, and conserve scenic, historic, and open space resources. Goal 5 was designed to protect and conserve a wide range of natural resources, including:
riparian areas
wetlands
fish and wildlife habitat
wild and scenic rivers
wilderness areas
mineral and aggregate resources
energy sources
groundwater
natural areas
historic and cultural resources
scenic views and sites
open space
However, unlike some of the other more prescriptive goals, Goal 5 is more of a process goal, requiring decision makers to consider resource values rather than mandating their protection.
Consistency between local plans and the state goals was implemented via an "acknowledgment" process, where local plans were reviewed and approved by the LCDC. Conflicting uses are addressed through land use regulation in the acknowledged comprehensive plan. For example, this may include overlay zones (e.g., big game winter range overlay), siting standards for dwellings, setback or buffer requirements, dwelling density for big game winter range, an inventory process, and regulations for protection of wetlands and waterways. Since 1981, cities and counties have been required to review their comprehensive plans. However, in 2007, the legislature enacted a bill that revised the scope of "periodic review" to include only those cities with a population greater than 10,000. While Goal 2 requires that all local governments' comprehensive plans be maintained and updated, counties and smaller cities are no longer legally obligated to update their local inventories or code. This means the focus of long range planning is weighted toward meeting development objectives, rather than conservation issues. As a result, most Goal 5 inventories in local comprehensive plans are outdated and do not address new fish, wildlife, or habitat data, such as the Strategy Habitats or updated big game habitat maps.
The program's 19 goals include Goal 14, which establishes urban growth boundaries (UGBs) around each city or metropolitan area to separate urban land uses from farm and forest working landscapes. By concentrating urban development and associated impacts, the land use program has been reasonably successful in containing sprawl. In 2013, the Oregon legislature passed House Bill 2254, which now directs a new, streamlined process for evaluating UGB capacity.
The 2013 Oregon Values and Beliefs survey found that Oregonians value the state's natural beauty, outdoor recreation opportunities, and relatively clean air and water. They also value a good economy, but they want an approach to economic development that recognizes the importance of the state's natural environment to our quality of life. In addition, the survey found Oregonians greatly value farm and forestland and want to conserve it. Findings suggested that residents support concentrating growth within existing cities and towns to save farmland and stop sprawl. They see Oregon's land use system as a way to protect the livability and quality of life they want at the statewide and local levels.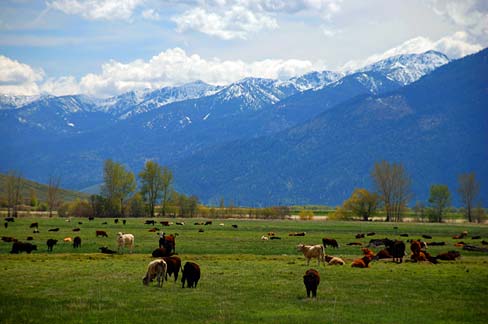 Oregon's Land Use Planning System
Protecting and conserving fish, wildlife, and habitat resources should continue to be an integral component of the land use process for land within and outside of urban growth boundaries. Protection of resources can be balanced with efficient urban and rural development and local land use decisions. Smart and sustainable planning is necessary to maintain a healthy environment, habitat connectivity, and livability within the communities.
Oregon's land use planning system continues to evolve as discussions on regional planning proceed. Every legislative session, bills are introduced that have the potential to alter the effectiveness of the land use planning system.
Fish, wildlife, and habitats contribute to local and statewide economies and are valued as integral to our high quality of life (2013 Oregon Values and Beliefs survey). Oregon's statewide land use planning system offers an opportunity to continually re-affirm these values, even as community growth boundaries expand into areas with rich natural resources. Oregonians will need to continue working collaboratively and find common ground to maintain the heritage and culture of our public trust resources.
Land Use Planning: Goals and Actions
Goal 1: Manage land use changes to conserve farm, forest, and range lands, open spaces, natural or scenic recreation areas, and fish and wildlife habitats.
Action 1.1. Increase access to maps and scientific data to support energy siting and land use planning efforts while integrating fish, wildlife, and habitat resources. Provide greater access to continually updated information, and encourage the use of data throughout the planning process.
Local governments, state agencies, conservation organizations, private industry, and the general public need access to land use and habitat information so they can make sound decisions using best available data. Spatial information on Strategy Species, Strategy Habitats, Conservation Opportunity Areas, and other mapped information for Oregon is available using the ODFW Compass mapping application. Other organizations also provide information via online tools, GIS data, and reports (Some of these are presented in the Land Use: Additional Resources and Energy Planning: Additional Resources.). Agencies and organizations are encouraged to continue to share information, data, and analyses on habitat function, wetland permitting, restoration projects, and other information that can track changes in land use over time.

Oregon should continue to plan for future growth consistent with the statewide planning goals. The DLCD Strategic Plan calls for improved "capacity to gather, analyze, and distribute data and information to local jurisdictions and other stakeholders, and to guide policy development". Additionally, there is a need to evaluate the state-local coordination process. The current rules no longer require local governments to go through periodic review to update Goal 5 resource mapping. As a result, most local jurisdictions are not using the best available geospatial or scientific data for fish, wildlife, and habitat resources in their land use decisions.
Action 1.2. Conserve Strategy Habitats using voluntary, non-regulatory tools, such as financial incentives, conservation easements, landowner agreements, and targeted acquisitions.
People own land for different reasons and need a range of incentives and conservation tools to complement each landowner's unique circumstances. The Conservation Strategy provides a summary of voluntary, non-regulatory approaches to conserving Strategy Habitats and recommendations to further assist willing landowners. There are several tools available for conserving habitats. To ensure that limited funds address the greatest conservation need, many of these tools can and should be focused on Strategy Habitats when compatible with program purpose and intent.
Action 1.3. Encourage strategic land conservation and restoration within Conservation Opportunity Areas.
Conservation Opportunity Areas represent priority areas across the state for maintaining and restoring habitat through voluntary approaches. Because these areas are particularly important to specific Strategy Species, have some of the best remaining habitats, and have fewer limiting factors, conservation focused in these areas is likely to be more efficient and effective at the landscape scale. These areas are priorities for investing conservation dollars to implement actions described above.
Oregon's Wetland Program Plan includes a Core Element of "voluntary wetland restoration and protection". Under this Core Element, there is a focus on restoration and protection, including actions for continuing stream and wetland restoration, and working with counties to enroll properties in the Wildlife Habitat Conservation and Management Program. The Wetlands Conservancy and the Institute for Natural Resources provide an informational tool for prioritizing wetland conservation and restoration.
Action 1.4. Work cooperatively within existing land use planning processes to conserve Strategy Habitats, and optimize use of transferred development rights, conservation banking, and other market-based tools to meet land use goals.
Land use planning laws are part of the existing regulatory framework. The Conservation Strategy is entirely voluntary and non-regulatory; it does not expand, replace, supersede, or contradict existing regulations. Rather, the Conservation Strategy encourages innovative solutions within the existing regulatory framework.
There are a number of tools and resources available for tracking land use changes and assisting planners with land use related decisions. For example, the Oregon Department of Forestry (ODF) keeps track of land use conversion, the Oregon Department of State Lands (DSL) tracks wetland changes, and the Oregon Watershed Enhancement Board (OWEB) tracks restoration projects.
Oregon Explorer
is a resource that features a variety of content for land use planners (this 
video
 provides more information).
Action 1.5. Support informed conservation markets and incentive programs.
In addition to working within the existing planning and regulatory framework, the Conservation Strategy supports market and incentive programs. Outreach to cities and counties with information about incentives to conserve Strategy Habitats and Conservation Opportunity Areas, as well as incentives for conservation on working farm and forestlands, can expand conservation opportunities at the local level. Market-based approaches, such as conservation banking and Transfer of Development Rights (TDR), allow local communities to meet their goals while landowners and developers may continue to profit.
Measure 37, passed in 2004, required that any government implementing a land use regulation waived the requirements of the regulation or compensated owners for any loss of value. Measure 49, passed in 2007, tempered the potential impact of Measure 37 and resulted in the authorization of over 6,000 new dwellings in rural areas. LCDC is adopting rules that would authorize the establishment of voluntary TDR programs for counties. This tool could provide incentives to shift development to locations where residential development would have less impact on farm, forest, and natural or environmentally sensitive areas. Strategy Habitats and Conservation Opportunity Areas could be used as incentives to offer "bonus credits" for landowners to transfer the development rights out of those areas.
Action 1.6. Support and encourage the development of local land use plans and ordinances that protect farmlands and forestlands and other fish and wildlife habitats in urban and rural areas.
Many important decisions about land use occur at the local level through local comprehensive land use plans, Goal 5 planning, ordinances, and other means. These local plans take into account local values, priorities, and needs. To implement the Conservation Strategy, agencies will need to work with local community leaders and other stakeholder groups to find opportunities to incorporate Strategy Species, Strategy Habitats, Conservation Opportunity Areas, and habitat connectivity corridors into local plans that conserve farmlands, forestlands, open space, and natural areas.
land use planning: Additional Resources
Oregon Statewide Planning Goals
Oregon Land Use Planning Online Training
Oregon Working Lands Map Viewer and report.
The Big Look (2009): The Oregon Task Force on Land Use Planning Final Report
Governor's 10 Year Plan for Oregon Project: Healthy Environment Policy Vision
The Oregon land use system: an assessment of selected goals INR Report (2008)
Oregon Values and Beliefs Project
Renewable Energy Planning
Oregonians value our native fish, wildlife, and habitats as well as scenic resources, clean energy, reduced greenhouse gas emissions, and a thriving economic sector. Over the coming decade, more clean energy development is likely to occur with increased regulation of power plant emissions in the face of climate change. Oregon's natural resource management agencies are increasingly challenged with the need to balance the state's interest in clean energy development with local natural resource conservation needs.
Energy projects offer environmental benefits but also have impacts on fish, wildlife, and habitats. So far, energy policy has focused on the broad need to reduce emissions (e.g., Northwest Power Planning Council), but typically does not address local or site-level impacts. At the same time, site evaluations for specific projects typically focus on the immediate and local effects of a project, without consideration of its broader benefits. Climate change and the increasing call for clean energy challenges agencies and partners to work together in creative ways to bridge the gap.
As we look ahead to the future, policies to guide new clean energy development should outline a collaborative vision to siting success, recognize the immediate but dispersed value of clean energy across Northwest landscapes, and incorporate fish, wildlife, and habitat values.
RENEWABLE ENERGY PLANNING: Goals and Actions
Goal 2: Strategically consider impacts to fish, wildlife, and habitats while meeting state and federal goals to increase reliance on renewable and domestic energy resources.
Action 2.1. Use the best available information about priority areas for fish, wildlife, and habitats to plan clean energy projects.
Reducing emissions is an important step towards alleviating climate change in the Pacific Northwest. Achieving these broad goals can be planned using the best available science, with additional technical assistance and local information from Oregon's natural resource agencies. Agencies and partners can work to provide the tools, scientific knowledge, and assistance needed to support consistent, defensible, and predictable siting decisions and operational requirements. The decision support tools outlined in this Conservation Strategy provide a foundation and a starting point (e.g., Compass). Currently available guidance documents include the Oregon Columbia Plateau Ecoregion Wind Energy Siting and Permitting Guidelines (2008) and the USFWS Land-Based Energy Development Guidelines. However, these guidance documents are just a beginning. Further actions to enhance the availability and use of best available science should engage natural resource agencies to develop clear and comprehensive mitigation strategies and siting guidance for all types of energy development.
Renewable energy planning: Additional Resources
Statewide Land Use Planning System
Energy Facility Siting Standards
Association of Fish and Wildlife Agencies Energy and Wildlife Program
American Wind Wildlife Institute
Defenders of Wildlife Renewable Energy Program
National Energy Technology Laboratory Research
American Wind Energy Association Resources
Columbia Plateau Wind Energy Siting Guidelines 
USFWS Eagles in the Pacific Northwest: Energy, Utilities, & Guidance